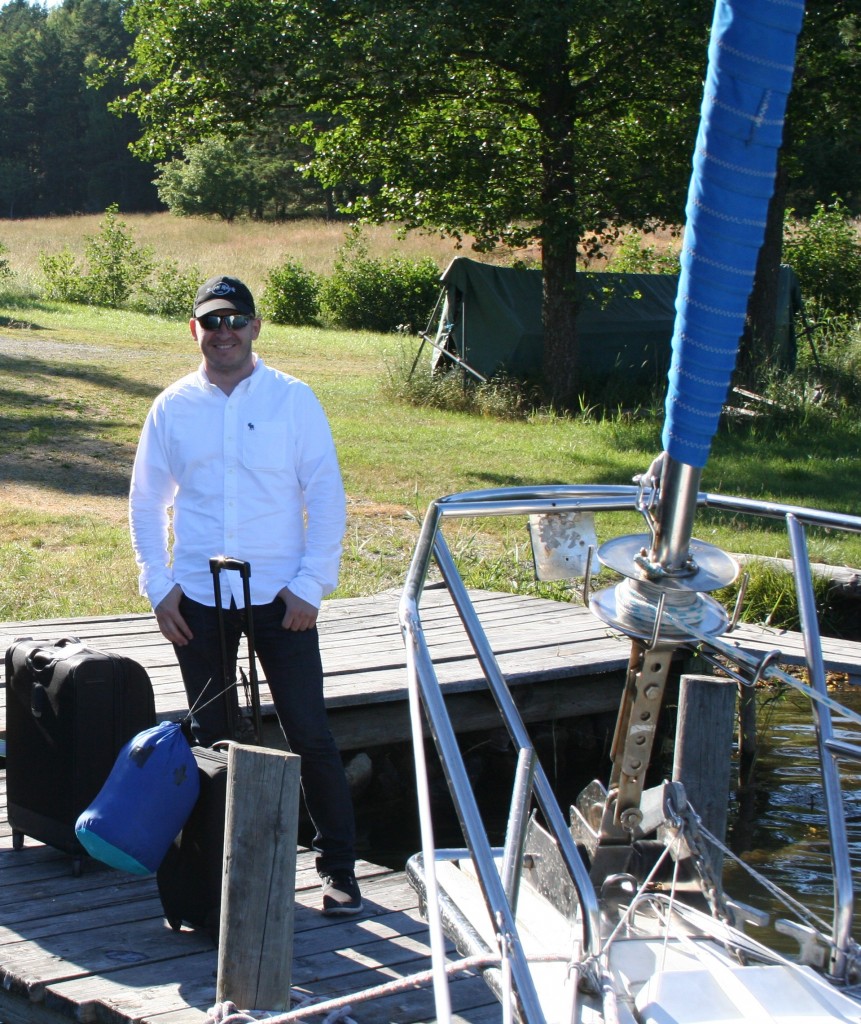 First Thought – Best Thought. And Gotland sailing was our first thought, right after Ulfie bought his boat.
Stockholm needs no introduction, and this was my second jump to that city so far. However, Gotland is something absolutely special, and I've never even heard of it before. So we made our way to the marina straight from the airport and started out during that very first evening.
The distance to our destination was actually quite large (almost 200 kilometers). We took the first session through Stockholm archipelago, which requires a great deal of attention to avoid rocks reaching up almost to the water surface.
So that was how we got ready for cruising the Baltic Sea to Gotland,
We arrived at Visby (the seat of Gotland Municipality) at early night. The marina is quite large, ready to accommodate real huge cruisers and ferries.
The Saturday we spent in Visby, was truly special. Not only because the scenery (Gotland sailing is like going to a medieval party island) but also because we figured out that there was absolutely no need to remain thirsty here.
So we quickly rearranged the marina – not (only) because of Tanqueray London Dry Gin – but more to facilitate the push-ups we got fined for due to the "explicit lyrics". Girls will be girls, and they can't seem to understand that our stories just can't be told in a nice way.
So what's next? Visby offers some Summer fun – parties that start at 4 pm. Something similar to what we had in Pag, Croatia. But this one was named the Pink Party, and aims to be a bit more "exclusive".
Back slick hair and pink clothing were all-popular here. As I was explained, this is the week youngsters are saving for during the year and finally show off here as much as possible. So, in fact, this is regarded as a highly snobbish party.
That explains why Ulfie's sandals were so heavily criticized at the bar. So we just kept on partying,
and partying,
but also kept strong focus on the view.
The party was over – relatively early.
We returned to the boat and arranged a small after with the motto "I hate to be a told-you-so, but I'm a told-you-so". That's all to it.
Then we still could make it to the shore and take some shots of the sunset. No green flash, though.
Long as this journey was, it required joint effort to steer, navigate, etc. Still, I was extremely happy about spending this night on a sailing boat, instead of anything else (up to and including passenger airplanes).
We got ourselves isolated from the gathering mosquitos .
And finished our tour with an extremely good wind, giving us 8 kts in speed. Phones did not work for most of the time – luckily.
The moment when Ulfie tells me that I should have ironed my t-shirt.
Who knows what a crash-stop is? Some marine troops use boats that are driven by jet engines. Those are capable of alternating the water jet fast enough to stop from high speeds incredibly fast.
For Gib'Sea 442 – not having anything like a jet engine – we have implemented a way to crash stop. While sailing out to a marina at full speed, we managed to crash into an underwater rock. That stopped us actually faster than a water-jet engine. Same as banging into a concrete wall with a vehicle of 12 tons. We all learned to fly a bit, got some minutes of fame, but luckily no one really got hurt.