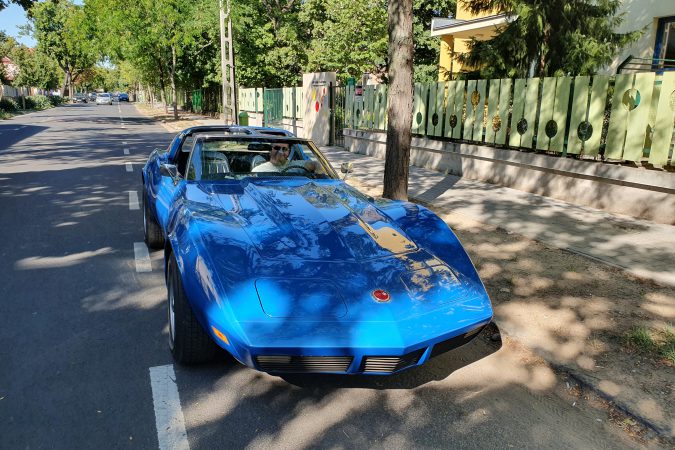 Does this title ring a bell in 2019? It was just last year that I landed in Los Angeles for a short holiday and chose to go for a convertible. My reservation was valid for a Mustang GT but the car rental company ran out of those and offered a red remedy – the all new Corvette. I recall that experience even today, taking long days of just cruising around – not only in Hollywood, but also in neighborhoods like Compton, to commemorate my old favorite, Tupac. So that Vette was red, fast and extremely far away from anything comfortable:
Well, there was another Corvette I always wanted to drive, badly, and that was even kept in my close neighborhood. It was born in 1973, shipped to Sweden to be bought by a friend in November, 1994 and taken to Budapest in 2009, just about 10 years ago. The owner is a good old friend, Ulfie (the one whose 42 feet sailing boat we wrecked against an underwater rock at the Baltic sea http://palyi.com/gotland-sailing-tour/ ).
During these good ten past years, I gave this car at least 10 visits, always being aware where the project had been (hopelessly stall) at. I actually got some photos from its trip to Budapest, as that is also not a walk in the park from Sweden – not because of a generally long drive but more due to the fact that this car was made in the 70's, and that means a whole different effort to drive, compared to what we normally drive nowadays.
It used to have red finish, not actually the factory-original. One thing to note: you should never leave doors unlocked, cause someone might just jump in:
Once it got to Budapest, an in-depth rebuild began. The car got disassembled entirely, down to the frame and was renewed by a guy who was specialized to American cars:
The red paint was sanded all the way off and here you see that the very original color had been blue – the same as the color today, after the restoration:
Yet another angle – the chassis running on an auxiliary frame applied below, just to avoid any damage / deviation of the intended body geometry:
Then built back with proper paintwork, with the below primer and then the blue finish:
Yet another angle:
The motor is 350 cubic inches in volume, 5.7 liters for the Europeans' sake, putting out 250 hp in performance.
And the driver for today – cause we know still waters run deep – me, at freaking long last. 🙂
Driving this car, now I can tell you, is very far from driving anything from the past 2-3 decades. Manual gear, American layout, different power steering character, unusual turning point, pedals positioned according to the ergonomics of the seventies, more force to apply on mostly everything… and so on. Yet, it's been a truly awesome ride, one constant laughing out for a good hour.
So the Corvette returns home to Sweden this Friday, just like I returned home, to Budapest this Wednesday, to keep rollin' even more good stuff, probably coming up with 2-3 extremely funny-tricky tech creatures till the end of this year, so stay tuned! 🙂